Posted on October 18 2023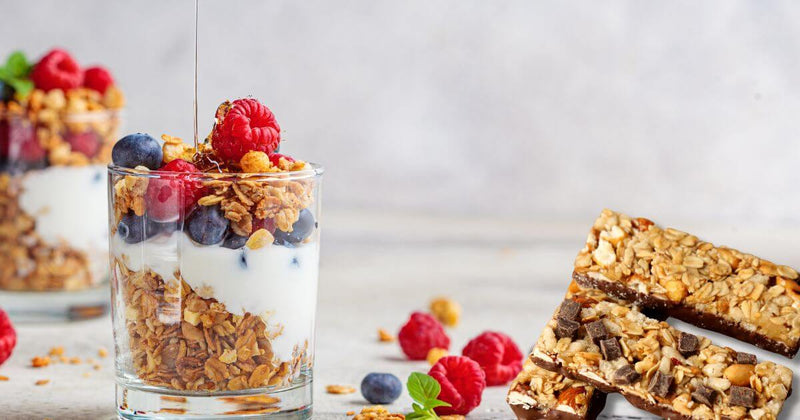 Hey there busy bees! We've all been in those moments when life is becoming hectic, and finding a healthy snack feels like a mission impossible. It's frustrating because we know our bodies deserve better, right? That's why Vicki and the team decided to roll up our sleeves and do some digging to help out busy women just like you. We wanted to make sure you could make smart food choices without it turning into a production number. So, we've put together a list of 10 on-the-go snacks that'll keep you active and healthy, no matter how hectic your schedule is.
Let's now dive into these tasty options that will help you conquer your day like the superstar you truly are.
Nuts, Trail Mix, or Nut Butter + Fruit:
When life has you racing to practice or meetings, these snacks are your ace in the hole. Grab a handful of almonds, a pack of trail mix, or some peanut butter paired with your favourite fruit. They're loaded with the ideal mix of carbohydrates and healthy fats to boost your energy levels.
Greek Yogurt:
For a protein-packed powerhouse, toss some Greek yogurt in your bag. Enhance its endurance with nuts or a sprinkle of cereal. It's a creamy and satisfying snack that'll keep you powered up throughout the day.
Cheese + Fruit:
Reach snacking perfection by pairing your preferred cheese with a side of fresh fruit and whole-grain crackers or pretzels. It's a well-rounded combo that hits the mark.
Protein Shakes:
Craving a swift protein fix? Look no further than whey or plant-based protein shakes. A quick shake with water provides 15-30 grams of muscle-building protein. Just keep an eye out for added sugars; not all shakes are created equal.
Jerky:
Jerky is the ultimate high-protein snack. Pair it with pretzels, applesauce, or fruit for a balanced on-the-go option. Opt for low-sodium, low-sugar varieties for guilt-free munching.
Whole-Grain Protein Bars:
All protein bars are not equal. Opt for whole-grain bars with low sugar and high protein content. Nuts are your top choice for a protein-packed snack that keeps you going, whether it's pre or post-workout.
Low-Fat Chocolate Milk:
Treat yourself to a cup of low-fat chocolate milk post-workout. It's not just delicious but also delivers 8 grams of protein. Perfect for promoting muscle recovery, it's a sweet choice that won't break your calorie bank.
'Cheese' Popcorn:
Yes, you read it right! Relish guilt-free cheese popcorn by sprinkling parmesan or nutritional yeast over air-popped popcorn. It's a fibre-rich, low-calorie snack with a cheesy kick and an additional 8 grams of protein.
Hard-Boiled Eggs:
Hard-boiled eggs are a snack lover's delight. With only 85 calories and a robust 7 grams of protein, they're easy to take on the go. Don't pass up the yolk—it's tasty and contains the fat-fighting choline you need.
Hummus and Veggies:
Hummus, crafted from chickpeas, is now available in convenient single-serving packs. Pair it with vitamin-packed red pepper, carrots, or celery for a wholesome alternative to gas station chips and dip. Each 2-ounce serving offers 4 grams of protein to keep you satisfied.
Absolutely, no need for any fancy preparations here! So, the next time you find yourself racing off to your next adventure, just remember these snack options. They're like your trusty lifelines when your home fridge is feeling a little empty.
So, stay active, stay fueled, and conquer those bustling days with these delicious and nourishing on-the-go snacks. We're here for you queen! You've got this!